Results for all of the S.C. county and state races can be found here:  https://www.enr-scvotes.org/SC/103402/Web02-state.251053/#/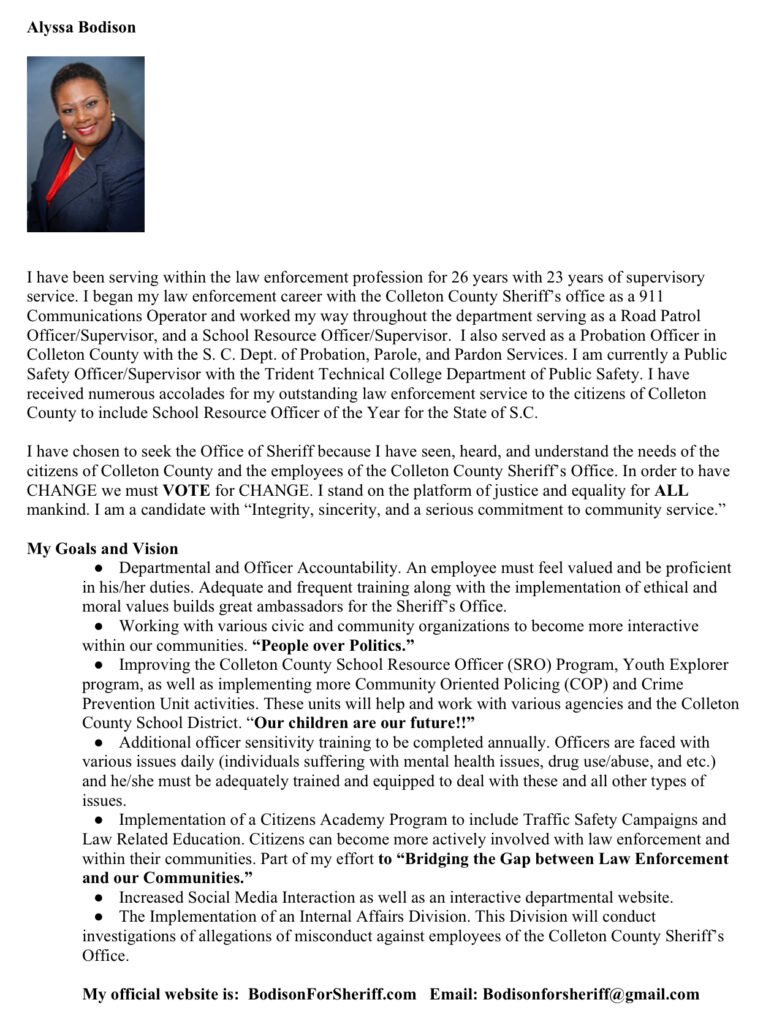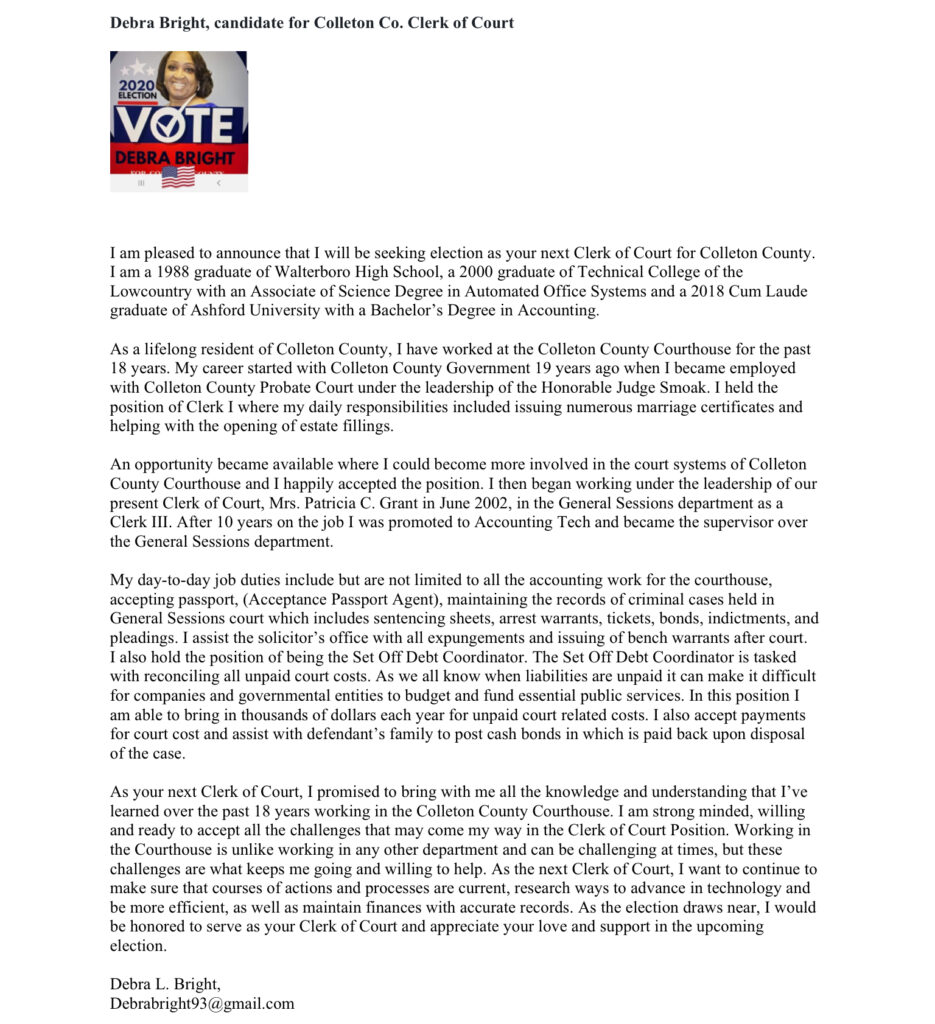 Some updates from the June 9th primary.
In Colleton County – A total of 4,030 Democrats voted compared to 5,441 Republicans. This is a total of 9,471 votes cast out of approx. 25,000 registered voters. This is only slightly better than the number of Democrats that voted in the Feb. 29th presidential primary which was 4,013.
State Senate District 39 – There will be a runoff between Cindy Evans and Vernon Stephens on June 23rd. Please get out and vote if you are in this district. Ms. Evans actually won the portion of Colleton County that is in District 39 (52.71% of the vote) but for the entire district, she and Mr. Stephens were very close, and neither got 50% of the vote.
State Senate District 40 – for the portion that is in Colleton County, Dr. Michael Addison and Mr. Brad Hutto only had a 6 vote difference. But for the entire district, Mr. Hutto won with 10,756 votes to 4,402 for Dr. Addison.
State House District 90 – Justin Bamberg won with 81% of the vote.
State House District 116 – Chardale Murray won with 57.91% of the vote.
Colleton Co. Sheriff – Alyssa Bodison won with 61.44% of the vote.
Colleton Co. Clerk of Court – Debra Bright won with 53.82% of the vote.
County Council Dist. 23 – Phillip Taylor won with 60.45% of the
vote.
What does this all mean? For the candidates above and many more that did not have a primary opponent (that I will post next week), we must get Democrats out to the polls in November.
Some more factoids:
Compared to the overall state turnout of 22%, Colleton County had 37% turnout. This is awesome but, of the turnout in Colleton County, 42.5% were Democrats.
Compared to previous primaries and general elections:
2018 Primary – In Colleton County, only 5,140 votes were cast (22% turnout). So we obviously improved upon that in this week's primary. At that time, there were 23,547 registered voters.
2018 general election – In Colleton County, there were 13,373 votes cast out of 24,091 registered voters, which represents a 55% turnout. There were approximately 48% Democratic votes in this election vs 52% Republican.
2016 General Election – Statewide turnout was 67.86% of registered votes and it was 69% in Colleton County. However, in the Walterboro precincts, turnout was only averaging 33%. Cottageville was at 44% and Edisto was at 52%. Many precincts were above 60% turnout. At the time, there were 25,270 registered voters, with 17,439 votes cast.
Again, we congratulate our Democrats that are going on to run in the November election. We thank everyone who offered themselves as a candidate.
We hope to "see" you all at our next monthly meeting on Zoom, on Thursday, June 25th. We hope to have a special guest (or two.)